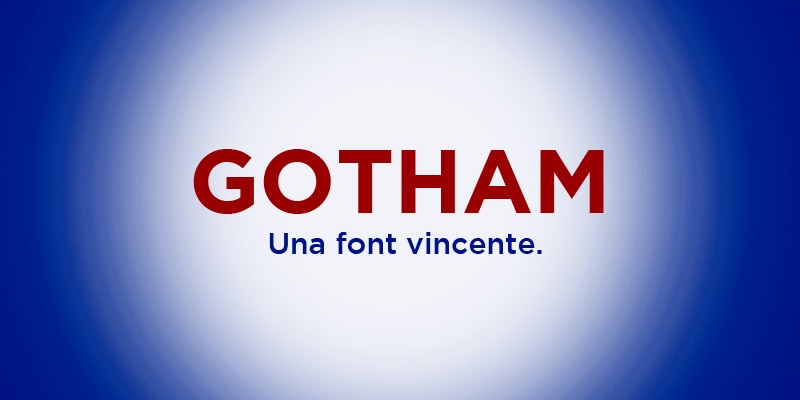 L'avete vista di sicuro, l'avete amata, ma non sapevate come si chiamasse: il Gotham è una font che negli ultimi anni sta spopolando ed è salita agli onori delle cronache. Il Gotham ha iniziato la sua invasione globale dopo esser stata utilizzata nientemeno che da Obama durante la sua vittoriosa campagna presidenziale nel 2008 (il suo rivale, Romney, utilizzò invece il Mercury).
Il Gotham è una font piuttosto giovane: è stata infatti disegnata solo nel 2000 da Hoefler e Frere-Jones (una fonderia di New York che vanta come clienti The New York Times, The Guardian, The Sun, The Times, solo per citarne alcuni).
L'ascesa di questo carattere bastone, dall'impatto molto pulito e moderno, è stata tale che è diventato in breve tempo uno dei più amati ed utilizzati dai designer di tutto il mondo.
Il suo studio venne commissionato dalla rivista GQ, e il suo disegno trae linfa vitale, forza ed energia "dal basso": i suoi creatori infatti hanno preso ispirazione dalle vecchie insegne cittadine, e in particolar modo da quella presente all'entrata del New York Port Authority Bus Terminal.
A differenza della segnaletica su cui si basava, il Gotham include anche un minuscolo, un corsivo, una gamma completa di pesi, e una gamma estesa di larghezze: un Narrow, un Extra Narrow, e un condensato.
Chiaramente però non è nata dal nulla: grande modello di ispirazione è stato il Futura (un altro bastone molto noto, disegnato attorno agli anni venti): entrambe sono due font precise e pulite, essenziali e soppesate al meglio, senza fronzoli inutili. Come ha affermato lo stesso Frere-Jones: "Mentre lo sviluppavamo, ci siamo accorti che avrebbe potuto essere molto contemporaneo, ma anche classico e quasi severo".
Per i vostri prossimi manifesti, roll up o biglietti da visita, il Gotham potrebbe essere un'ottima scelta per avere una comunicazione di grande carattere.